Rescue organisation name: Evesham Greyhound and Lurcher rescue
Rescue contact details/website address:
www.lurcher.org.uk/
Does the animal have rescue back up?: Yes
Current location:
Photo(s):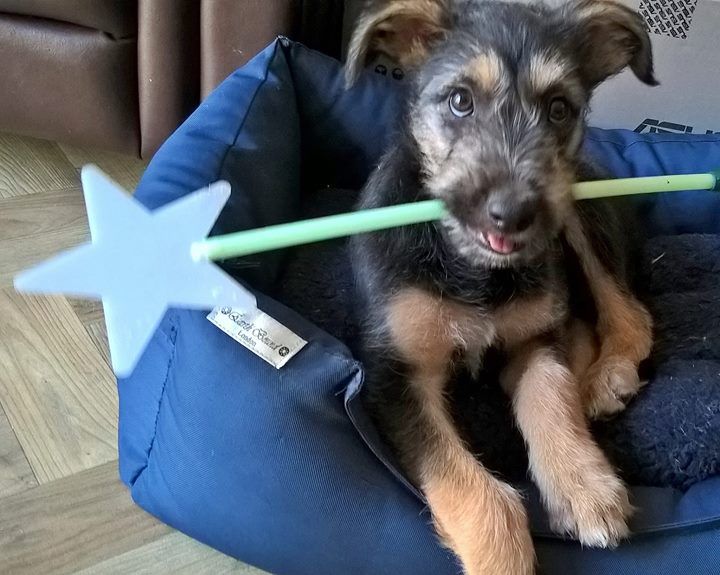 Number of animals: 1
Type/Breed/Variety: Lurcher (see other information)
Name(s): Jinxy
Sex: Male
Age(s): Approx 10 weeks as of 1/5/17
Colours:
Neutered: Not old enough at this stage
De-flea'ed: Yes
Wormed: Yes
Vaccinated: commenced
Reason for rehoming:
Temperament: Friendly, loving, happy,
Medical problems: None
Has the animal been assessed: N/A
Is transport available: N/A
Other information (optional):
Mr Jinxy is around 10 weeks old and is a bit of a mix of a Bedlington, Deerhound, Greyhound, Whippet .......... whatever he is he is a little stunner. Jinxy has been described by his foster home as being a loving affectionate boy, who thoroughly enjoys snuggling up to humans and the other dogs in the foster home. He enjoys playing with his toys and running up and down the garden, he is doing really well with his toilet training, loves his food and is growing fast as a bonus he also gets on really well with the resident cat.
Due to his age, we are looking for a home where people are around most of the time and any children would need to be over the age of 8.
For more information please contact Pip on 01386 853971 (Weekdays after 5pm/Weekends anytime or Linda 0121 258 4510 (Weekdays after 4pm until 10pm/Weekends if available)