Rescue organisation name: Evesham Greyhound and Lurcher Rescue
Rescue contact details/website address:
www.lurcher.org.uk/
Does the animal have rescue back up?: Yes
Current location: Worcestershire
Photo(s):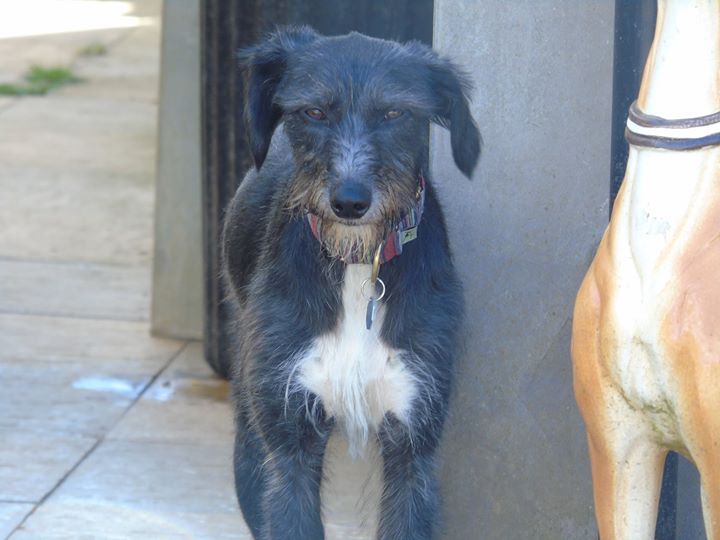 Number of animals: 1
Type/Breed/Variety: Lurcher
Name(s): Flokie
Sex: Male
Age(s): Approx 9 months
Colours: Black with white chest
Neutered: Yes
De-flea'ed: Yes
Wormed: Yes
Vaccinated: Yes
Reason for rehoming: came to rescue in a neglected state
Temperament: Fun, friendly, bouncy youngster
Medical problems: None
Has the animal been assessed: Yes
Is transport available: Not normally
Can the group be split (if applicable): N/A
Other information (optional): Flokie is 9 months old, and its fair to say that when he arrived at Evesham Greyhound and lurcher Rescue he was in a very poor and neglected condition.
His recovery has gone well and he has a fun, bubbly and outgoing personality. Like most pups Flokie likes to bound around running and playing in the garden, he is very friendly and seems to love everyone he meets.
We are looking for a home with older children only, due to his bounding about and no cats, he does get on well with other dogs.
Please call Pip or Linda if you would like to find out more about this very handsome youngster
Pip 01386 853971 ~ Weekdays after 5pm/Weekends anytime
Linda 0121 2584510 ~ Weekdays 4pm-10pm/Weekends if available