Rescue organisation name: nrbr
Rescue contact details/website address:
http://nrboxerrescue.com/
Does the animal have rescue back up?: yes
Current location: South Wales
Photo(s):
Number of animals: 1
Type/Breed/Variety: Boxer cross
Name(s): Jersey
Sex: female
Age(s): 4 months
Colours: red and white
Neutered: no, too young
De-flea'ed: yes
Wormed: yes
Vaccinated:
Reason for rehoming: Change in circumstances
Temperament: typical puppy
Medical problems: non known
Has the animal been assessed: yes
Is transport available: no
Can the group be split (if applicable): na
Other information (optional):
Situated South Wales
Jersey is a 4 month old 3 quarter boxer cross who has come to nrbr due to her previous family working longer hours and not having time to meet her needs. Jersey is a typical puppy who will need someone to help her develop her social skills in the home, outdoors and with other dogs, puppy training classes would be great for her. Jersey is full of beans and loves playtime she also has lots of puppy love and cuddles to give. Jersey has gone to a foster home and is with 2 male boxers.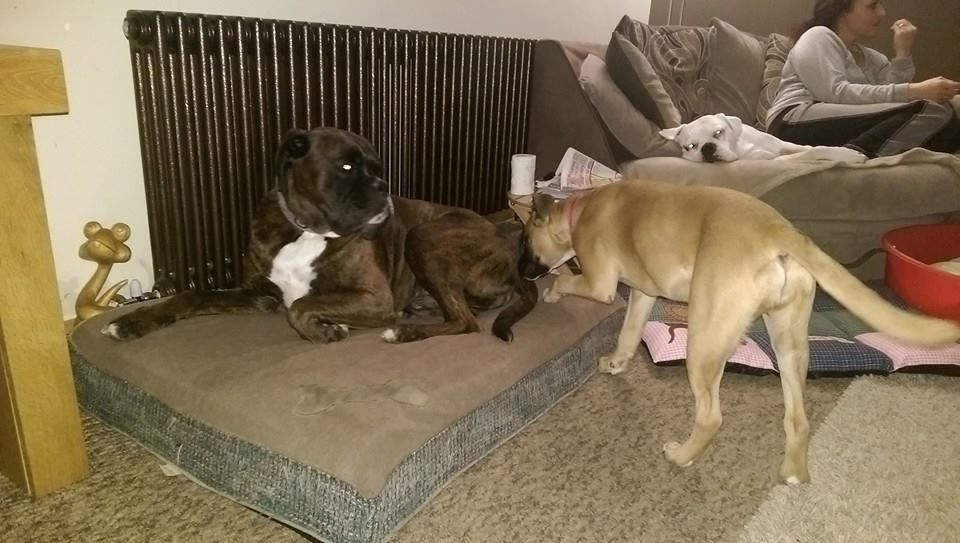 Little up date from foster dad:
The cuteness is strong in this one .
She's chilled a lot today , eating well, going to toilet outside and playing with splodge and Ieuan our son.
Just going for a walk shortly
Paul