Organisation details:
Safe and Sound
Hello, my name is Winston!
I am a 1-2yr old Staffordshire Bull Terrier castrated male. I am also wormed, fully vaccinated and microchipped.
I came into the care of Safe and Sound after being found abandoned on the streets of Hertfordshire.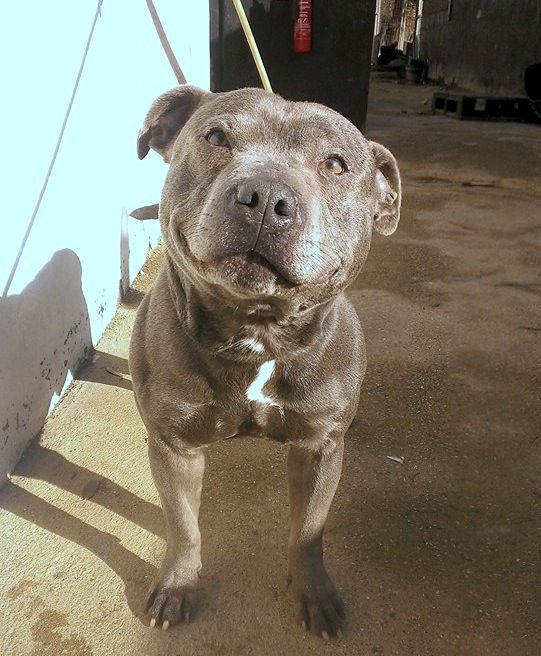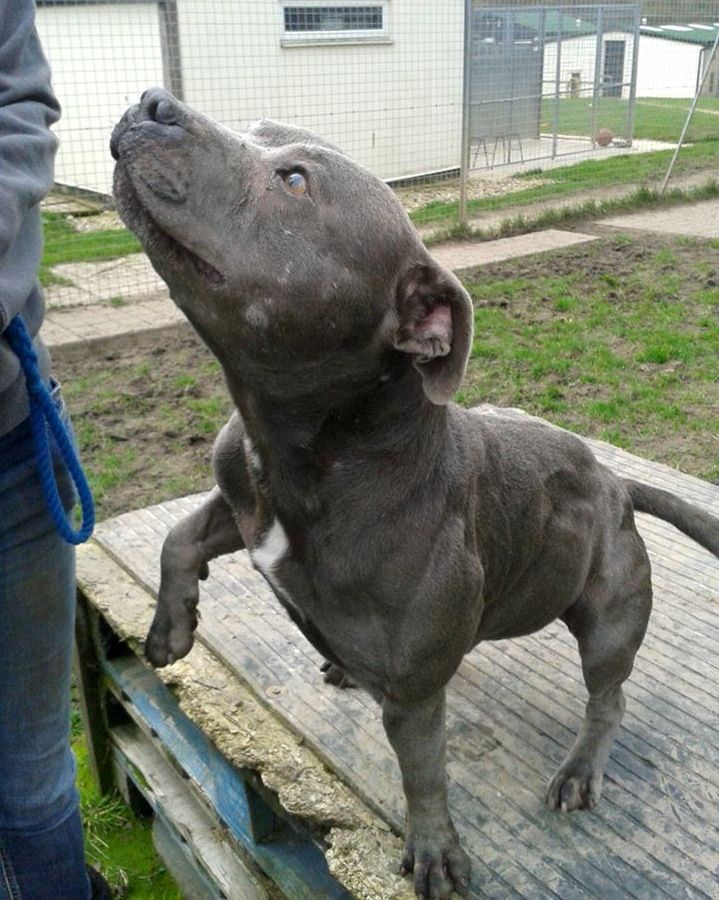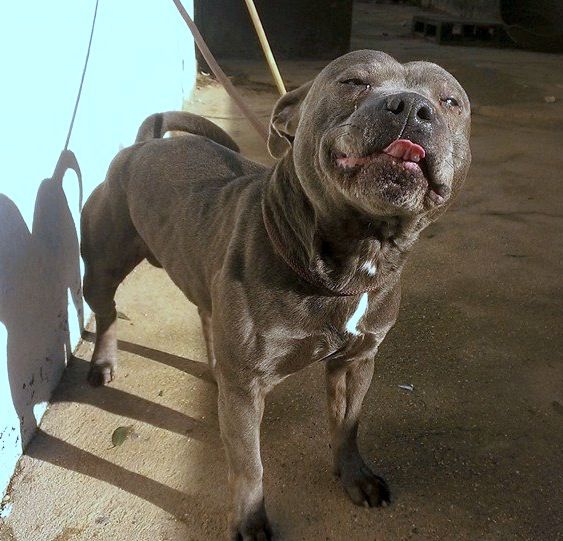 As you can see, I am a stunning example of my breed: a traditional staffie - petite, short legged and very athletic, with a striking 'blue' coat.
Kennel staff say I am a sociable, outgoing chap with a warm, affectionate temperament; I enjoy snuggling up with staff and will happily chill out on the sofa with you for a nice cuddle. Don't be fooled though, although I can be a couch potato when there is a comfy lap to sit on, I am a high energy, high drive dog.
I will need an active home able to provide me with plenty of mental and physical stimulation. I have always fancied trying agility or maybe flyball and would love an owner to take me to activity classes where I can use my brain and burn off some energy.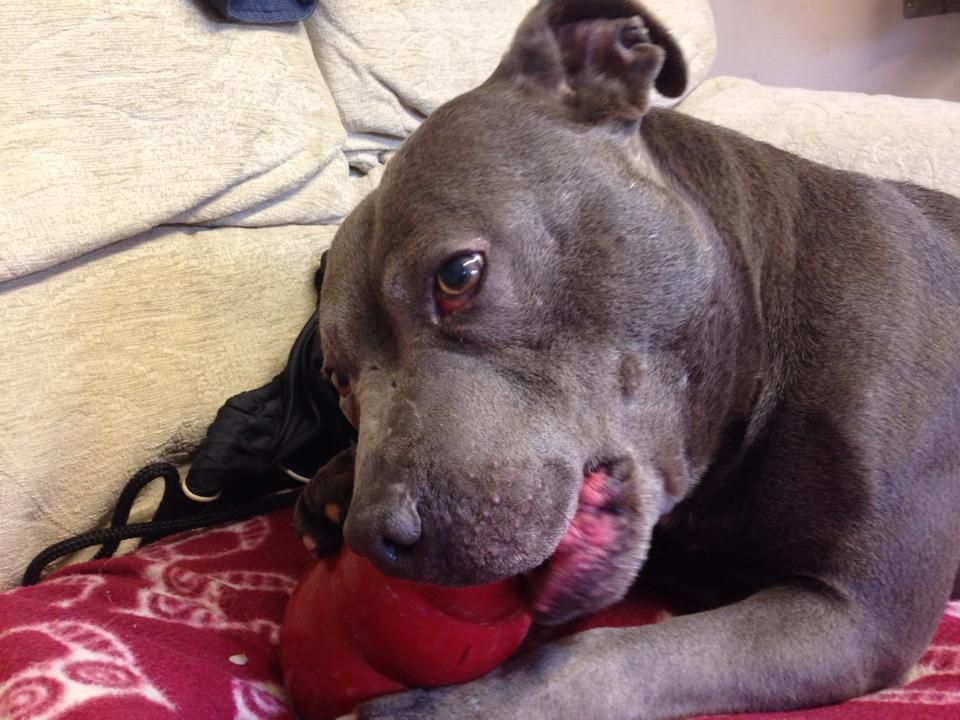 I LOVE to play, but will need a family who will teach him to play politely and sensibly, without jumping up or getting over excited.
It's not yet known how long I can be left alone for so I'm currently looking for a home where there is somebody around for most of the day.
I would like to live with someone who has owned bullbreeds before and who has researched my breed type.
In kennels, I have been well behaved around other dogs and could live with a calm female dog providing we're a good match. I wouldn't be suitable to live with cats or small furries though.
I may be able to live with sensible children from 10 years of age and upwards.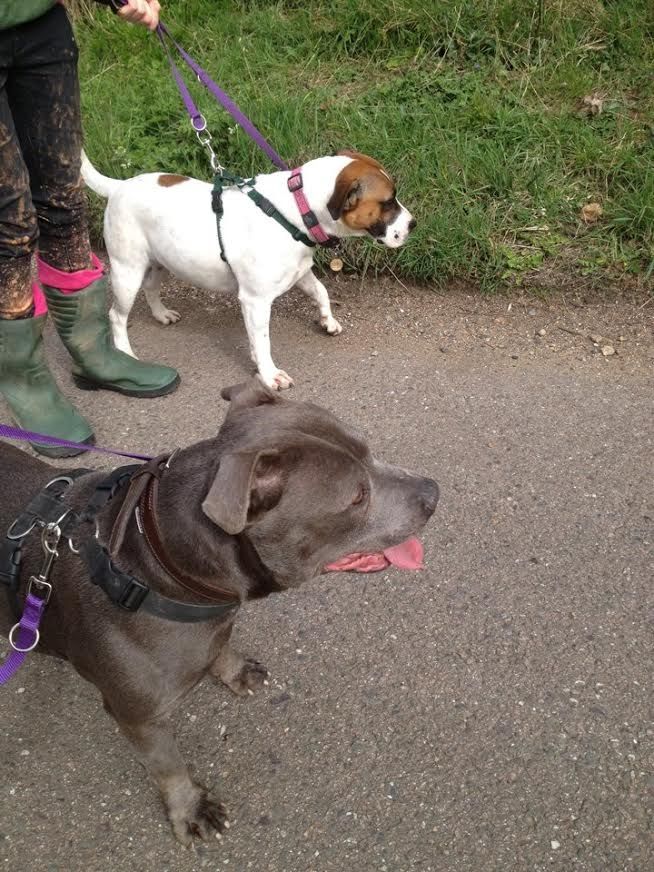 My new family will be expected to take me to training classes and to provide me with a minimum of two hour's exercise every day.
If you're interested in giving me a home and are prepared for the hard work and commitment involved, please complete an application form:
https://safeandsoundrescue.wufoo.eu/forms/a...tion-form-copy/
I am also available to foster:
https://safeandsoundrescue.wufoo.com/forms/...plication-form/
I hope to see you soon,
love
Winston x
Size: 23.5kgs
Location: Hertfordshire
Medical problems: None known
************************************************** *******************
Our homing criteria:
CAT FREE (unless otherwise specified on a dog's description);
No children under 10;
Located in: London, Essex, Hertfordshire, Cambridgeshire, Buckinghamshire, Bedfordshire or Lincolnshire;
Someone at home for at least part of the working day;
Resident dogs are neutered and up to date with their vaccinations;
Fully enclosed and secure gardens (6ft fences, unless otherwise stated);
All applicants will be visited at home by a rescue representative (known as a "home check");
Your family (including any dogs) will be expected to travel to meet your prospective pet - at least once to meet the dog and then again to take it home. We do not provide a drop off/collection service;
An adoption donation of £150 and signed adoption contract will be required.
Potential homes will first be visited at home by a rescue representative, who will need to meet all members of the family (known as a "home check").
Note:
We can not rehome to commercial/public premises (pubs, shops etc) for legal reasons.
Rented homes will require written consent from their landlord.
We do not use 'working' homes (security, hunting etc).