Saatchi, Dogue de Bordeaux?Collie, DOB 04.13 – Waterlooville, Hampshire
Homing Requirements:
Saatchi needs a family who can offer him further training and patience as he settles into adulthood. Saatchi needs to have a rural life with open spaces and responsible ownership to his 'bull breed' genetics which offers love but carries prejudice from the general public. Saatchi can live with another dog or more. Saatchi is proven around children. Unassessed for cats, curious with small furries but not fixated.
Video: Saatchi on the hill
Video: Saatchi on the hill - part 2!
Video: Strutting his stuff!
Video: Saatchi befriends Mitzy
Video: Friendly pup!
His Story:
Saatchi was found stray and unclaimed. Saatchi is now neutered, chipped and fully vax'd. Saatchi is now fostered in with other dogs and young children near Waterlooville, Hampshire.
Advert:
Saatchi is Art! Fresh on the market and very much a treasure to behold. Saatchi is submissive by nature, fluent and amenable. He is adaptable and will win all hearts. Saatchi travels well and is very personable as a passenger leaning into you with trust and care. House trained with awareness and not destructive in the home. Marvellous for a big pup!
Saatchi is an orange brindle Dogue de Bordeaux x Collie? with a curly tail. He has the slightly mal aligned jaw as with Dogue de Bordeaux, joules and yet light frame, longish fur and curly tail ... unique! Saatchi is ready to embrace life with his forever family guiding and caring.
Please visit Saatchi's thread on our forum:
http://rescueremedies.myfastforum.or...860.php#141860
to find out if he is still available and for fuller details.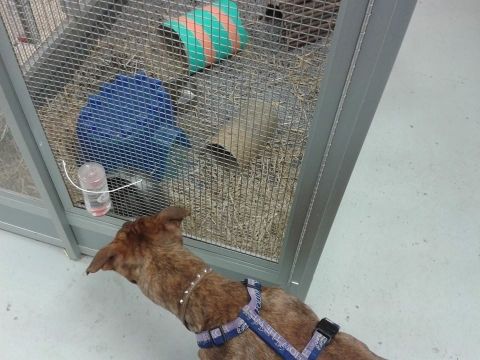 If you are interested in re-homing please complete our homing questionnaire as a first step:
https://rescueremedies.wufoo.com/forms/r7x3s5
so we can ensure our dogs are matched and will suit your circumstances/lifestyle.
For daily updates please visit our forum and you will find listed the full range of dogs that are available for homing -
http://rescueremedies.myfastforum.org/index.php
***PLEASE NOTE: This ad has been posted by Rescue Remedies Dog Rescue. We are a registered charity (No. 1139407) and our work involves finding unwanted dogs their life long homes. We currently have approx. 100 dogs under our wing. We usually ask for a minimum donation of £175 at the time of adoption, for each dog, to help us continue helping homeless dogs***.