Contact/organisation details: Northern Rose Boxer Rescue
Does the animal have rescue back up?: Yes
Location: North Ease
Number of groups:
(repeat the following for each group)
Group:
Number of animals: 1
Type/Breed/Variety: Boxer cross
Sex: Male
Age(s): 16 months ish
Name(s): Archie
Colours: Brindle
Neutered: Yes
De-flea'ed:
Wormed:
Vaccinated: Yes
Reason for rehoming: Too boisterous
Temperament: Lovely young bouncy boy in need of some training
Medical problems:
Neutering - Where applicable, animals should be neutered unless for medical reasons. Can this be guaranteed?: n/a
Will the group be split (if applicable):
Has the animal been assessed?: Yes
Transport available: No
Other information (optional):
Archie is a brindle and white boxer cross who is about 16 mnonths old. Archie originally came to us from the dog pound where he had served his 7 days and was due to be put to sleep if no rescue place found. Archie was rehomed but sadly, is again looking for his forever home. He has now been neutered but is still a very bouncy, typical, young boxer cross. Archie really desperately needs some stability in his life and a family who have the time to commit to his training as he progresses out of the puppy stages.
Archie is now in a wonderful new foster home sharing with two other dogs, where he is receiving training.
Generally speaking he has been good in his new foster home. Seems quite happy on the lead even when the other two are off lead. Equally happy off-lead playing chases with the Lab. His 9 year old foster sister tends to avoid the rough and tumble and tells them both off if things get too rough. Archie spent a good part of the walks off lead today and his recall has been good. He has shown a little lead aggression and foster Dad is working on this. Archie has stopped when told though and behaved himself.
Update from foster Dad:
Just a quick update on Archie with photos: a good day today: moved the crate (only in it when I am out) into the sitting room and he has been fine with my own dogs around him. Off lead for the most part on walks today: recall really good and well behaved when he met a couple of other dogs.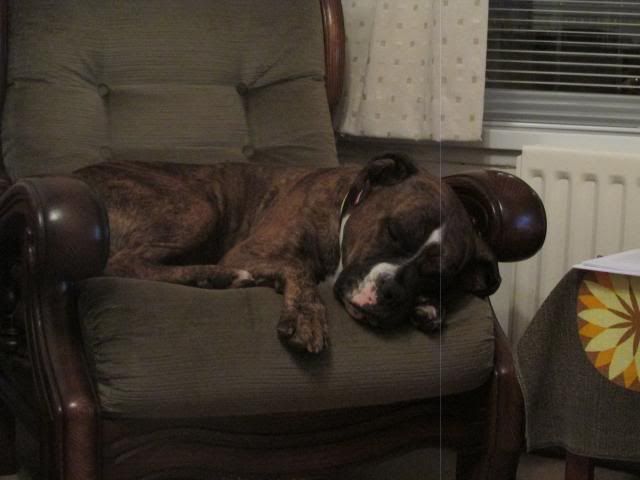 8.30pm Sunday: just finished typing up a homecheck and decided to go to bed: well my two and Archie had commandeered all the comfy seats: just remembered I had to make the dogs' supper so couldn't go to bed.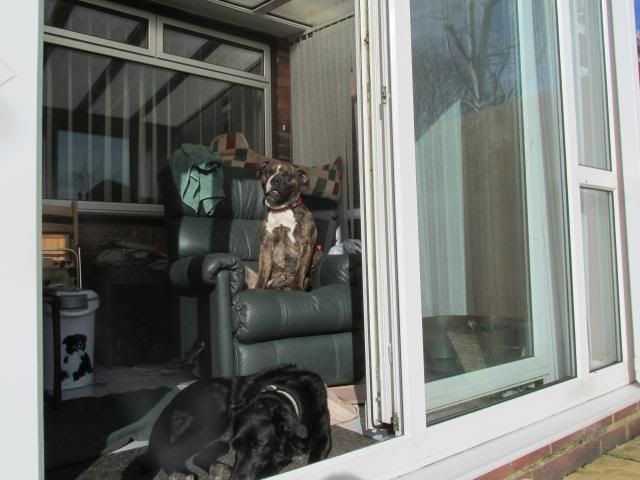 Archie and Bonnie settling down and enjoying the sunshine in the conservatory after a long walk.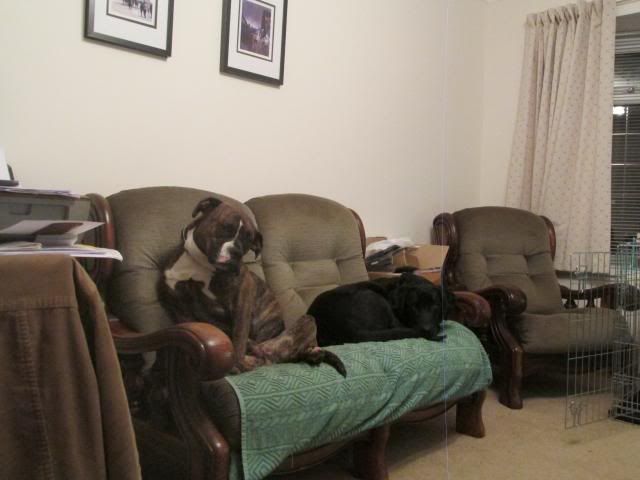 Able to watch the football in comfort tonight: Archie and Buddy agreed to share the sofa.
Archie on his morning walk with Bonnie and Buddy. Loves a chase and wrestle with Buddy. Good recall thankfully and equally good on lead. When I took the photos thought he wanted the camera, but luckily he spotted the other two had found something more interesting.
If you are interested in adopting this gorgeous boy then please fill in the Apply to Adopt form on our Website - link below.