Contact/organisation details: Northern Rose Boxer Rescue
Does the animal have rescue back up?: Yes
Location: South Wales
Number of groups:
(repeat the following for each group)
Group:
Number of animals: 2
Type/Breed/Variety: Amercian Bulldogs
Sex: Male and Female
Age(s): Unknown - young
Name(s): Acer and Seren
Colours: White
Neutered:
De-flea'ed:
Wormed:
Vaccinated:
Reason for rehoming: Poundies
Temperament: Friendly lovable pair
Medical problems: Acer had op for Cherry Eye and raising funds to do Seren's
Neutering - Where applicable, animals should be neutered unless for medical reasons. Can this be guaranteed?: If not the condition of Adoption Contract.
Will the group be split (if applicable): No
Has the animal been assessed?: Yes
Transport available: No
Other:
Acer and Seren are two young adult American Bulldogs who found themselves in the stray pound and after serving their 7 days were at serious risk of being put to sleep. Acer and Seren are brother and sister and were for a while living in a shed. They have not had the best care recently before coming to NRBR and both were found to have cherry eye but they are both now in a lovely foster home where they are getting plenty of much needed tlc. Acer has been neutered and had an op on his eyes from which he has recovered well and Seren will have the op when funds are raised.
Both dogs have such lovely natures and just want love and cuddles they both also travel well.
Seren:
Acer:
Reunited: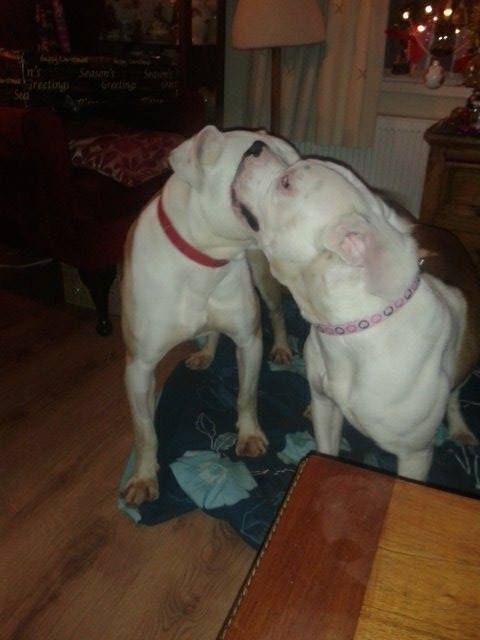 If you are interested in adopting this gorgeous pair then please fill in the Apply to Adopt form on our Website - link below.