Contact/organisation details: Northern Rose Boxer Rescue
Does the animal have rescue back up?: Yes
Location: South East but will be moving to North West shortly.
Number of groups:
(repeat the following for each group)
Group:
Number of animals: 1
Type/Breed/Variety: Boxer x
Sex: Male
Age(s): About 1
Name(s): Archie
Colours: Brindle and white
Neutered:
De-flea'ed:
Wormed:
Vaccinated:
Reason for rehoming: Poundie
Temperament: Very friendly and good with other dogs.
Medical problems:
Neutering - Where applicable, animals should be neutered unless for medical reasons. Can this be guaranteed?: If not then conditionof Adoption Contract
Will the group be split (if applicable):
Has the animal been assessed?: Yes
Transport available: No
Other:
Archie is a brindle and white boxer cross who is about a year old. Archie came to us from the dog pound where he had served his 7 days and was due to be put to sleep if no rescue place found. Archie is a lovely friendly boy and is very good with other dogs. Because Archie was a stray we do not have any history of his life before rescue. Being a young dog Archie is a typical bouncy boy and will need someone who can give him plenty of exercise and continue with his training to ensure he remains sociable. Archie is undergoing a period of assessment - further updates to follow.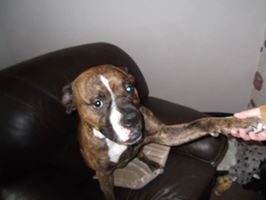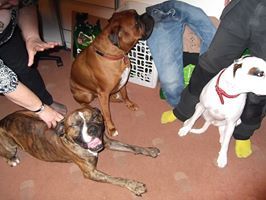 If you are interested in adopting this gorgeous boy then please fill in the Apply to Adopt form on our Website - link below.