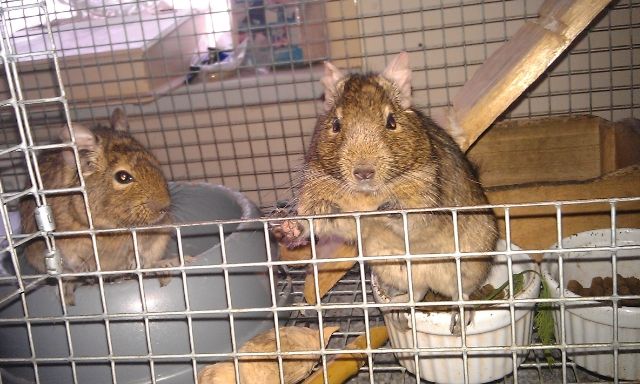 VIDEO
Contact/organisation details:
Mickelmarsh Mouse House, Bristol
http://mickelmarsh.webs.com
mickelmarsh-mice(at)hotmail(dot)co(dot)uk
Does the animal have rescue back up: Yes
Location: BS7, Bristol, Avon
Transport available: We will do our best to arrange transport if required.
Species: DEGU
Number of animals: 4
Will the group be split: No
Sex: Male
Age(s): Brain, Hammy and George (2-3yrs) and Virgil (under 1 yr)
Name(s): Brain, Virgil, Hammy and George
Colours: All standard colouring but can be told apart.
Neutered: No
Reason for rehoming: Brain was a child's pet and the novelty wore off. Virgil's owner became ill and unable to care for him.
Hammy and George's owners had a change in circumstance.
Temperament: All are wonderfully sociable. Virgil is the energetic one.
Hammy and George really enjoy gnawing things and are the first out of the cage when the door's opened.
Brain is the cuddly one and the most laid back of the group. He loves running on his wheel.
Medical problems: Brain has cataracts in one eye; these aren't causing him a problem at the moment.
Other info: These friendly lads would suit a first time Degu owner.