By thedemonpigs
Contact/organisation details: TLDR
Does the animal have rescue back up?: Yes
Location: Sheffiled
Type/Breed/Variety: JRT
Sex: Female
Age(s): Approx 12 months
Name(s): Tessa
Colours: White/Black and Tan
Neutered: Yes
De-flea'ed: Yes
Wormed: Yes
Vaccinated: Yes
Reason for rehoming: Came from the pound
Temperament: A bright, busy and lovely girl
Medical problems: None
Has the animal been assessed?: In foster home
Transport available: We ask that prospective owners visit the dog in the foster home unless there are exceptional circumstances.
Other:
Tessa is approximately 12 months of age, and a stocky, solid little girl with lots of energy. An active home with terrier knowledge is a must!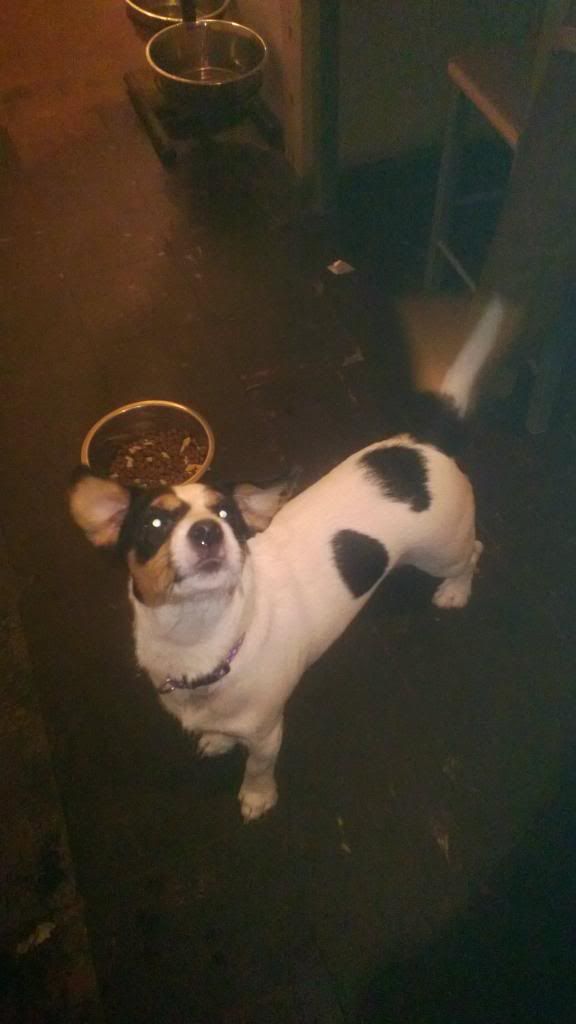 Having arrived via a council pound, but with some known history, Tessa has been living alongside 6 other dogs. She is a dominant little girl, with a strong mind and she plays rough, so a home with larger breeds would be ideal. She can be too 'full on' for delicate little ones, although has learned to be respectful when reminded. She needs at least one other dog to bond and play with, or boredom will set in.
Her closest bond in the foster home is with a large male Akita x GSD, who tolerates her chasing, nipping and rough play. Her strong character needs a strong, terrier experienced owner who will ensure this is not allowed to get out of hand. Whilst showing no aggression towards other dogs, Tessa will defend herself if provoked, but will also submit to dogs she recognises as having authority over her.
Tessa has been sharing the home with a cat, and a very tiny 'foster kitten', and took on a Motherly role towards the kitten under supervision, but would potentially chase cats that run. She has been known to catch the odd mouse and has been very interested in a friend's rabbit, so we would suggest a home with no small furries.
Tessa is nicely behaved around children, enjoying their energy levels and ability to play with her, but can be very bouncy, so children over 8 yrs please.
This little girl is immensely bright, and absolutely loves being busy, so training classes or a training programme are a must. She does know some basics, although is too easily distracted by the pack here, but on a one to one has fantastic focus (especially for food, which is her second big love – her first being cuddles!).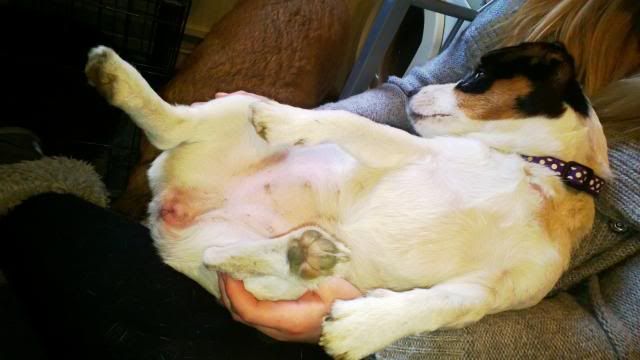 Tessa is crate-trained, and will go into her crate easily at bed-time. She will bark to let you know she needs to go out to toilet. Being part of a pack means she has never been left entirely on her own, so we will only consider a home with a companion dog, and no full-time working homes as she does bark and whine initially when left.
Despite a little destructiveness when she first arrived, Tessa's only real flaw is her need to be busy and doing, and she can be demanding if not fully occupied or exercised. She loves Kongs, rope tuggies, tennis balls etc and will amuse herself for periods, but her biggest desire is a good play session with 'her person'. With regular walks and mental stimulation, she is an incredibly easy girl to work with…and to love!
Tessa travels well in the car, preferring to be in the footwell, but can be easily crated. She accepts being groomed and bathed, although it's all play to Tessa! She is strong on lead (a harness is preferable) and will need further work with this. Due to the wide open spaces around the foster home, she has not been let offlead on walks, but at home her recall is good, especially for food – unless of course there are the usual terrier distractions 😉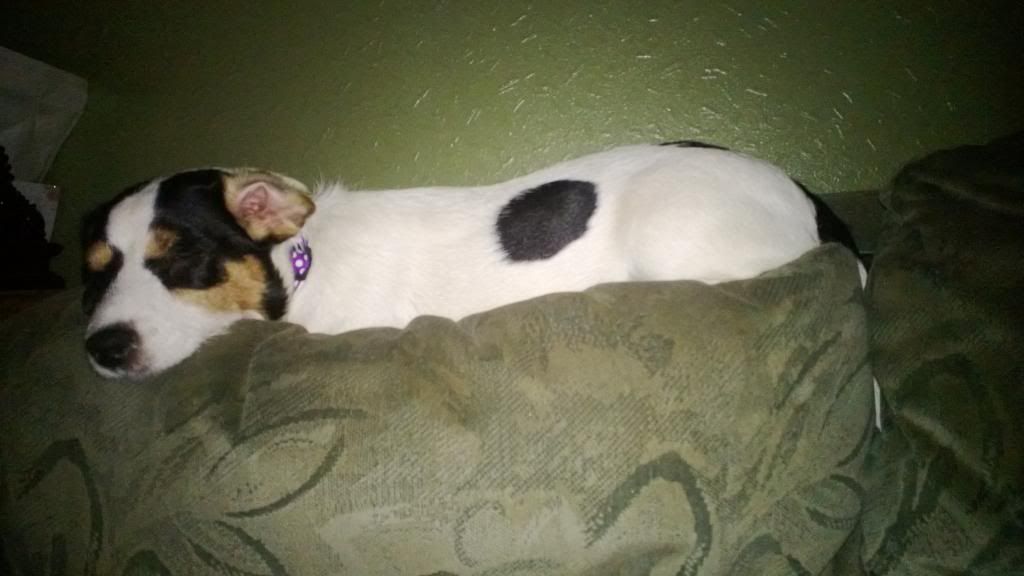 Tessa is with Clare in Sheffield, and I am happy to answer any questions you may have. She is a real favourite here, a delightful bundle of mischief, and in the right active, knowledgeable home she will absolutely shine. Could that be yours?
Summary:
Must be homed with another active, playful and tolerant dog.
No small furries (cats only under supervision)
Children aged 8+
No full-time working homes
Terrier experienced and active family essential.
Tessa is spayed, vaccinated, microchipped, flea and worm treated.
If you are interested in adopting Tessa please complete our online adoption form here:
www.littledogrescue.co.uk/PreAdoption.html
and someone will give you a call as soon as possible.