Contact/organisation details:
Mickelmarsh Mouse House, Bristol
http://mickelmarsh.webs.com
mickelmarsh-mice(at)hotmail(dot)co(dot)uk
Does the animal have rescue back up: Yes
Location: BS7, Bristol, Avon
Transport available: Fairly regular transport to Southampton and Exeter.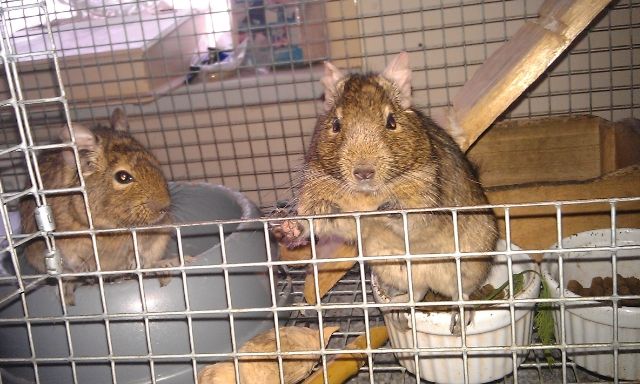 Species: DEGU
Number of animals: 2
Will the group be split: No
Sex: Male
Age(s): Born early 2011
Name(s): Hammy and George
Colours: Both boys are standard colouring but easy to tell apart.
Neutered: No
Reason for rehoming: Change in owners circumstances.
Temperament: Both boys are wonderfully sociable. Virgil is the more energetic of the pair and really enjoys gnawing things. Brain is the cuddly one. A little more laid back than Virgil, he loves running on his wheel.
Medical problems: Both boys are occasionally 'clicky' when they breathe. They received treatment when the problem first presented itself (a year ago) and we don't expect any further action to be necessary.
Other info: These friendly lads would suit a first time Degu owner. Both boys are incredibly active and a new home where they will be given plenty of time out of their cage is a must.