By thedemonpigs
Contact/organisation details: TLDR
Does the animal have rescue back up?: Yes
Location: Sheffield
Type/Breed/Variety: Yorkie X
Sex: Male
Age(s): Approx 12 months
Name(s): George
Colours: Black and Tan
Neutered: Yes
De-flea'ed: Yes
Wormed: Yes
Vaccinated: Yes
Reason for rehoming: Change in circumstances
Temperament: Loving and Affectionate boy
Medical problems: None
Has the animal been assessed?: In foster home
Transport available: We ask that prospective owners visit the dog in the foster home unless there are exceptional circumstances.
Other:
Prepare to ooh and aah…
Please meet George, a delightful Yorkie x chap who we believe is around 12 months of age. We think he may have a touch of Mini Pinscher in his background as he is so dinky!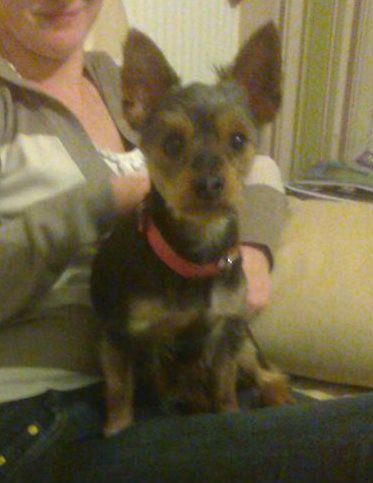 George will be ready for a new home on completion of his vaccinations/neutering in 2 weeks, but we are taking enquiries for him in preparation.
George is currently sharing his foster home with another male Yorkie x and has met other dogs visiting the home. We would consider a home with a friendly, gentle female, or a home as an only dog. George likes the company of another dog, but is easily overwhelmed by a bouncy one due to his size.
On arrival George was very timid and nervous, but has blossomed into an extremely loving and affectionate boy, proving to be well behaved around children aged 4+, and has shown no interest in the house rabbit, so we would consider a home with a placid, dog savvy cat.
Whilst not vaccinated he has of course not been walked outside, so we cannot be sure of his reaction to other dogs on walks, but he is likely to be initially unsure, and this may manifest in barking. But regular socialising and meeting other dogs will help with this.
His foster Mum has been teaching him to be more comfortable on a lead in the garden and enclosed areas, and he is becoming more confident about this, although can still be a little nervous at first. He gains confidence from being walked alongside another dog.
George plays well with toys, and loves to interact with his humans. He shows no possessive tendencies with food, toys or treats, and currently shares his meals with the other dog in the home from the same dish!
Having learned to sit for a treat, George is also working on other basic commands and we would love a home who are willing to continue his training.
George travels well in a car, has good recall, enjoys being groomed and can be left for short periods. He does bark at the front door, postman and visitors arriving, but soon settles again. He greets new people with tail wags and barks. If the person is new to him he may be a little nervous and hide until he feels comfortable to say hello.
George will be ready for adoption after 10th March.
If you are interested in adopting George please complete our online adoption form here:
http://www.littledogrescue.co.uk/PreAdoption.html
and someone will give you a call as soon as possible.
You can read more about George here http://littledogforum.proboards.com/…lay&thread=914