Contact/organisation details:
TLDR
Does the animal have rescue back up?: Yes
Location: Derbyshire
Number of groups: 1
Number of animals: 1
Type/Breed/Variety: Yorkie X (but possibly more Fox Terrier)
Sex: Male
Age(s): 12 - 14 yrs
Name(s): Jack
Colours: Tan and White
Neutered: Yes
De-flea'ed: Yes
Wormed: Yes
Vaccinated: Yes
Reason for rehoming: Came to rescue as an unwanted
Temperament: Very calm and relaxed, sleeps a lot
Medical problems: Old age related arthritis, blind and quite deaf.
Has the animal been assessed?: In foster home
Transport available: We ask that prospective owners visit the dog in the foster home unless there are exceptional circumstances.
Other:
This wonderful and utterly adorable senior gent is Jack, a Yorkie X of around 12-14 yrs of age.
Although he came to us with the tag "Yorkie X", he perhaps has some Fox Terrier or other breed mix, but whatever he is the one thing we do know is that he is a gentleman.
Jack is neutered and vaccinated, and has recently had some major dental work involving removal of all but 2 of his teeth. There are no known ongoing health problems, but he does have loss of sight and hearing due to his age. This is easily managed by keeping to routines, not moving furniture around and ensuring there are no hazards such as ponds or steps that he would tumble down.
Jack came to the rescue in a serious state of neglect, and is still gaining weight on regular small meals. A new home will need to continue these "little and often" feeds to ensure he continues his progress to a healthy weight.
In the foster home Jack has shared his space with other dogs and is perfectly happy to have doggy companions, but it would also be lovely to see him in a home where he is the sole pampered pooch. But don't let his age fool you, he loves a walk and is a little star on the lead.
As Jack cannot see to chase small furries or cats, it would be possible for him to share a home with them. We would prefer not to home with young children however, this chap really does need a quiet and comfortable retirement home.
Jack can be left for short periods, but has a tendency to wander so his foster Mum uses a puppy pen (like a child's play pen) to keep him safe.
Please don't be put off by Jack's age and sight/hearing problems. The oldies are so rewarding, and so easy to love that we know you'll fall in love with this guy...so please meet Jack, the Gentleman...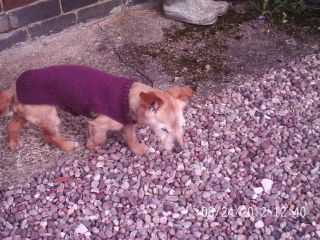 Anyone interested in making further enquiries about Jack can complete our Pre-Adoption form here:
http://www.littledogrescue.co.uk/PreAdoption.html
or call Clare on 07541 784500 for an informal chat.