Contact/organisation details:
www.friendsoftheanimalsrct.org.uk
Does the animal have rescue back up?: Yes
Location: Par, Cornwall but we home across the UK
Type/Breed/Variety: Bichon Frise
Sex: Female
Age(s): 5 years old
Name(s): Tracey
Colours: White
Neutered: Yes
De-flea'ed: Yes
Wormed: Yes
Vaccinated: Yes
Reason for rehoming: Ex-breeding girl
Temperament: Very timid but sweet
Medical problems: Very slight heart murmur - no medication required
Neutering - Where applicable, animals should be neutered unless for medical reasons. Can this be guaranteed?: Yes
Has the animal been assessed?: Good with dogs, cats and older children
Transport available:
Other:
Tracey is a very pretty 5 year old Bichon Frise, looking for a quiet and understanding home to help her come out of her shell. Tracey is an ex breeding girl so has not previously experienced life as a pet.
Understandably, Tracey is very timid and finds people quite scary as she is not used to seeing so many people or getting a fuss from them. If approached by new people, she will bark and run off to hide in her crate (her safe place) but if ignored she will gradually come to you to investigate! She now knows and trusts her fosterer so follows her everywhere and enjoys regular grooming by her, however, loud noises and sudden movements still frighten her.
Tracey's new home needs to be relatively quiet with no children younger than teenagers. It is important to understand that Tracey is not a lap dog. People are very scary to her but with lots of time and patience, she will gradually come to you and learn how nice it is to have a fuss!
Her confidence is growing in her foster home due to the great work of her fosterer and the comfort Tracey gains from being with other dogs. She enjoys going out in the garden with the other dogs during the day and she also likes to snuggle up with them for a snooze. Tracey must live with at least one other calm, friendly dog to help settle her in and show her the ropes. She would be fine to live with cats and other small animals.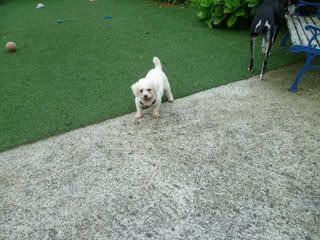 Tracey has already learnt to be clean indoors and she currently sleeps all night in the kitchen. She is ok when left for short periods but does whine softly at first.
In her new home she will need plenty of time and gentle encouragement before she is ready to learn all about having walks.
Tracey has been spayed, vaccinated and micro chipped. She has a very slight heart murmur and though it is unlikely that it will increase in severity enough for her to require medication during her life time, it is a small possibility later in her life.
If you think you can offer this beautiful girl the calm, quiet and understanding home she needs, then please get in touch.
Tracey is on foster in Par, Cornwall but we home across the UK.
If you're interested in adopting Tracey, please read our adoption guidelines and procedure;
http://friendsoftheanimalsrct.org.uk...radoption.html
Before completing a pre-adoption form;
http://friendsoftheanimalsrct.org.uk/dogadopt.html
If you have any questions then please do ask