Contact/organisation details:
www.friendsoftheanimalsrct.org.uk
Does the animal have rescue back up?: Yes
Location: Bicester, Oxfordshire but we home across the UK
Type/Breed/Variety: Cross breed
Sex: Female
Age(s): 2 years approx
Name(s): Ella
Colours: Tan and Black
Neutered: Yes
De-flea'ed: Yes
Wormed: Yes
Vaccinated: Yes
Reason for rehoming: Family no longer have enough time for her
Temperament: Very friendly
Medical problems: None known
Neutering - Where applicable, animals should be neutered unless for medical reasons. Can this be guaranteed?: Yes
Has the animal been assessed?: Good with other dogs and children approx 8+
Transport available:
Other:
Ella is a very sweet 2 year old cross breed girl looking for a loving, active forever home. Ella has been handed into us from a home situation. She was originally re homed by us when she was a pup but unfortunately the family we homed her to are no longer able to offer her the attention she requires.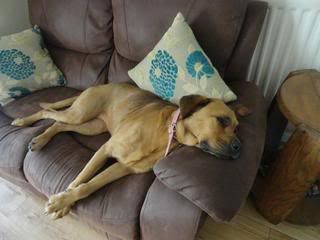 Ella is a wonderful girl and she is doing brilliantly in her foster home. Ella is an active girl who adores playing with her toys (the rubber ones don't last 5 minutes!) and she also loves having nice long walks. Ella walks well on the lead and is best walked wearing a harness. Her new home will need to be able to provide her with good, long regular walks as she truly loves them and has lots of energy for them!
Ella can be quite bouncy as she has so much energy so though she is very sociable with people, she'd be best to live with older children only.
Ella really loves people so would like a home where someone is around most the day although a part time worker would be considered as she can be left for a couple of hours.
She is friendly with other dogs and would be happy to live with others or be an only dog. Initially in her foster home, Ella would guard her food slightly from the other dog in the home. We believe this is due to her previously being an only dog; she has improved in her foster home and this work will need continuing in her forever home.
Ella cannot live with cats as she will chase them.
Ella has been spayed, micro chipped and has restarted her vaccination course. She is currently on foster in Bicester, Oxon but we home across the UK.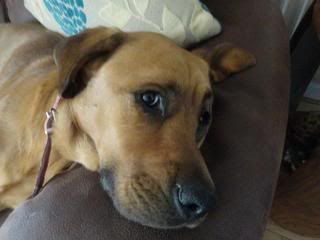 If you're interested in adopting Ella, please read our adoption guidelines and procedure;
http://friendsoftheanimalsrct.org.uk...radoption.html
Before completing a pre-adoption form;
http://friendsoftheanimalsrct.org.uk/dogadopt.html
If you have any questions then please do ask