Contact/organisation details:
www.friendsoftheanimalsrct.org.uk
Does the animal have rescue back up?: Yes
Location: Hoddeston, Hertfordshire but we home across the UK
Type/Breed/Variety: Poodle
Sex: Female
Age(s): 9 months
Name(s): Meg
Colours: Black
Neutered: Yes
De-flea'ed: Yes
Wormed: Yes
Vaccinated: Yes
Reason for rehoming: Handed in by home
Temperament: Very sweet and active!
Medical problems: None known
Neutering - Where applicable, animals should be neutered unless for medical reasons. Can this be guaranteed?: Yes
Has the animal been assessed?: Good with dogs and children but she hasn't yet been cat tested
Transport available: No
Other:
Meet Meg! A stunning little 9 month old Poodle full of love and fun who is looking for an active forever home.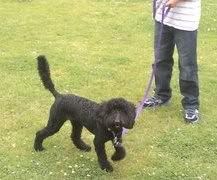 Meg would be happy to live with other dogs and children but she is not used to cats.
Follow this link to see a brief video clip of this beautiful girl
http://s1188.photobucket.com/albums/...t=16ee4bbe.mp4
She is a very friendly and happy girl who just loves to play! Meg needs an active and structured home where she gets plenty of exercise, stimulation and love. If you think you can commit to Meg for the rest of her life then please get in touch.
Meg has been spayed, vaccinated and micro chipped. She is currently on foster in Hoddeston in Hertfordshire but we home across UK.
If you're interested in adopting Meg, please read our adoption guidelines and procedure;
http://friendsoftheanimalsrct.org.uk...radoption.html
Before completing a pre-adoption form;
http://friendsoftheanimalsrct.org.uk/dogadopt.html
If you have any questions then please do ask